OULD Family of Torquay Devon, St Austell Cornwall ; Related Families : NOBLE, PYM, SKINNER, ROWLAND, SURNAME Interests
OULD Family History
---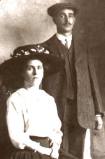 My OULD Connection starts with my Great Grand Mother Ann Thomas Ould She married my Gr Grandfather Robert Henry Leafe NOBLE. They Married in 1910, Click here for a copy of their Marriage Certificate.
Ann Thomas, known as Annie was born on 1st March 1890, Her parents are noted as Alfred Ould and Sarah SKINNER. Annie had several brothers and sisters those being-:
Fredrick Thomas Ould Ė ( 1887- 29th March 1915).
Alfred William Ould.
Kathline Emma (- lived into her 90s).
William Ould (- 86 when he died).
Daniel Ould (-died in Wales).
Torquay Fisherman Bill Ould (1895-1981):
Death of Drifter Fleetís Last skipper,
ONE of Torquay's oldest fishermen, Mr Bill Ould, above, has died, aged 86.

Mr Ould, of Highbury Road. Ellacombe, was the last skipper of the drifter fleet, which operated from North Quay and landed their catches each morning for auction by Brownings, - the wholesale fish merchants

Torquay born, Mr Ould started fishing with his father Alf and brothers Dick and Danny.

Although he retired at 67 he could be seen regularly at Torquay harbour side helping to mend nets and would also moor his boat at Hopes Nose netting mackerel and potting for crabs and lobster.

Mr Ould's son, Robert, and grandson, Michael, operate a sprat and shellfish business.

A funeral service will be held at Ellacombe Church on Friday 2 pm.
---
Robert Frederick OULD 1888-1915
Frederick Thomas OULD (Baptised Robert Frederick OULD) served in the 1st Battalion Devonshire Regiment. As a Private he was sent to France and arrived on 14th April 1915. His service number was 11481. A little over two weeks later, on 29th April, he was killed. The announcement was placed by his family in the local newspaper and he is remembered on Torquay War Memorial and the Menin Gate Memorial in Belgium.

A clipping from a local paper of a anouncement the of death of Frederick Thomas OULD, private ist Battalion Devonshire Regiment killed in action 29th April 1915.
Annieís parents, Alfred OULD and Sarah SKINNER marred in 1882 at St Lukeís Parish church Torquay. To view their Marriage certificate click here.
---
OULD family Living in Torquay Devon.
In 1901 the OULD family were living at 16 Fuller Street, St Lukes, Torquay. Alfred OULD a fisherman aged 46 was living with his wife aged 38, and 7 Children ; Alfred aged 19, Kate aged 16, Fred Aged 13, Annie aged 13, Richard aged 8, Willie Aged 6 and Daniel aged 2.
Alfred OULDs Birthplace was given as Newton Abbot (however it is believed to be St Austell Cornwall) and his wife Sarahís Birth place given as Torquay.
Alfred OULD and Sarah SKINNER were married at St Lukes, Torquay on May 3rd 1882. Alfredís address given was 15 Pimlico Torquay, where as Sarahís address was given as 2 Arch Road. Sarahís first child was born before her marriage, given the name she choose one assumes this was their child. In all they had Nine Children:
1.Alfred William born 28/10/1881 baptised 6/11/1881
2.Charles Richard born 9/12/1882, baptised 14/2/1883, buried 2/1/1884.
1 Katherina Emma baptised 15/3/1885. (married Albert GREY)
4.Robert Frederick baptised 5/9/1888.
5.Anna Thomas born 2/3/1890, baptised 20/5/1890. (married Robert H L NOBLE)
6.Richard Thomas born 21/10/1892, baptised 14/3/1893.
7. William Henry born 23/2/1895, baptised 15/6/1896, died 2/11/1981.
8. Bessie Marie (probably Marina) born 23/4/1897, baptised 15/6/1897, died September 1897
9. Daniel Skinner born 16/7/1898, baptised 11/10/1898.
Sarah SKINNER was one of seven children, the Daughter of Robert Vinning SKINNER and Mary Ann PYM they married in Exeter in 1852. At the time of her birth in 1862, Sarahís parents were Inn House keepers, at the Kings Arms, Pimlico Torquay.
In 1881 prior to marriage Alfred OULD was living with his mother and brother. There glamorous abode is listed as Tent at Rear of 8 Castle Buildings. Here Alfredís birth place is given as St Austell Cornwall, and his brother Williamís birthplace is given as Bovey Tracy, Devon. His Mother Anna Ould is listed as a Widow.
OULD Family from Cornwall.
In the 1871 census Alfred listed as Aged 10(however this could be aged 18) as living with his Parents Richard & Anna OULD at Willberby Road Torquay. In 1861 the OULD family are living with Annaís Parents.
Anna / Hannah was daughter of William & Catherine THOMAS. In 1861 the Ould family resided at Fore Street Chudleigh, Bovey Tracy, Devon. Both Richard OULD and his father in Law William THOMAS are recorded as Copper Miners. Here Richard OULDís birth place is recorded as Kea Cornwall (a large Rural parish between Truo, Penryn and Falmouth in Cornwall.).
William THOMAS, gave his birth place as Gwithian near Camborne. His Wife Catherineís Birthplace is given as Devonport, Devon. However their Daughters Anna / Hannah (OULD) and Elizabethís birthplace is given as St Austell Cornwall.
---
SKINNER Family
The Skinner / Ould Bible
The Skinner / Ould bible is part of a group of family papers to view the transcriptions click here. The Skinner Bible is in quite good condition although I canít say the same for the rest of the Papers.
The Skinner Bible was Given to Sarah on Boxing Day 1874 by her mother. Insibe the bible there is a register secton; the deaths Section notes-:
Robert Skinner Died November 11th 1873
Mary Ann Skinner Died April 11th 1875
I assume that Robert Skinner and Mary Ann are Sarahís parents. Under the births Section it notes what I assume as Robertís and Mary Annís Children-:
Marina Skinner
Harriet Skinner
Daniel Skinner
Mary Skinner
Mary Ann Skinner
Sarah Skinner
Charley Skinner
Although the bible seems to contain some useful, information if you would like to comment on this page or are interested in Ould family history Click below to e-mail me
---
Chart of the SKINNER Family
Scroll up for more info on the Skinner family.